Gala Dinner
On Thursday evening we offer you an enjoyable and delicious dinner in a very special location. The dinner will take place in the Museum of Modern Art in Wolfsburg. We are very happy to be able to show you this unique location and to invite you to spend time in a nice and relaxing atmosphere.
We are looking forward to spend a wonderfull evening with you.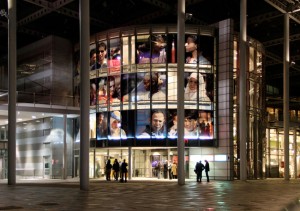 Social Event
On Friday afternoon, directly following the lunch at the Mobile Life Campus we invite you to visit the AUTOSTADT in Wolfsburg. No matter whether you are a real fan of automobiles or not, the AUTOSTADT is an unique experience for everyone.
We offer you a guided tour through the area and the possibility to test a new Golf Blue-e-Motion. As the demand for this offer is quite high, we please you to register for the visit. Please just send an e-mail to i.kes@tu-bs.de.
The whole area of the AUTOSTADT contains several pavilions that expresses its own brand philosophy via its architecture. Once inside, the visitor is enveloped by the illustrated world of this particular brand.
Furthermore, the ZeitHaus offers to you the possibility to travel back in time and to refresh memories about your first own car or cars your parents or grandparents drove. The ZeitHaus museum shows "Automobile Milestones" in a completely re-designed exhibition which presents classic cars within a contemporary artwork. The unique vehicles on display, are contextualized by using historical images and information which is embedded in the surfaces of the stages-like platforms. Raising the vehicles in this way signifies their singular importance as the trend-setters of their day; it also enables them to be seen as artworks of technological design.
For more information visit www.autostadt.de/en/explore-the-autostadt/